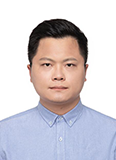 Prof. Shuaiyong Li
Chongqing University of Posts and Telecommunications
Personal website: Click here
Li Shuaiyong, male, doctor, postdoctoral, Professor, master director, Chongqing Bayu scholar, young scholar, forensic appraiser of audio-visual materials, senior member of China Mechanical Engineering Society and China instrumentation society, member of China automation society, member of Chongqing electronic industry technology innovation strategic alliance expert committee Chongqing intelligent manufacturing diagnosis and evaluation expert and reviewer of mechanical systems and signal processing top journal. In December 2014, he received a doctor's degree in Instrument Science and technology engineering from the school of Optoelectronic Engineering of Chongqing University. In January 2015, he joined the Key Laboratory of industrial Internet of things and networked control of the Ministry of education, School of automation / School of industrial Internet, Chongqing University of Posts and telecommunications. In March 2018, he took a temporary job in Chongqing Huashu robot Co., Ltd. and served as the director of the complete machine and rapid deployment technology R & D Laboratory of Chongqing Ruipu Robot Research Institute Co., Ltd. in November 2019, He is mainly engaged in basic research on the application of industrial Internet of things and intelligent perception, detection technology and automation devices, robots and intelligent manufacturing, presided over 2 national key planning projects of intelligent robots and 2 national projects such as the National Natural Science Foundation, 5 provincial and ministerial projects and 3 provincial and ministerial projects, and undertook 5 major theme projects in Chongqing as the technical director, Participated in 4 NSFC projects, published 31 SCI / EI papers, applied for 28 national invention patents and U.S. patents, authorized 9 national invention patents (1 achievement transfer invention patent) and 3 software copyrights. It has successively won the second prize of Chongqing Science and Technology Progress Award (ranking first), the young innovation award of academician Huang Shanglian of Chongqing University, the national scholarship for doctoral students, and the 2016 Excellent Thesis Award of Journal of instrumentation.
Prof. Qiushi Cui
Chongqing University
Prof. Qiushi Cui earned his M.Sc. degree from Illinois Institute of Technology, and the Ph.D. degree from McGill University, both in Electric Engineering. He was working as a postdoctoral researcher at Arizona State University (ASU) and served as the Associate Director of Machine Learning Laboratory for Power Systems in the Ira A. Fulton Schools of Engineering of the same university. Prior to joining ASU, he was a Research Engineer at OPAL-RT Technologies Inc. Dr. Cui has won three Best Paper Awards from UK, China, and the USA, all ranking the first. He was the winner of the Chunhui Cup Innovation and Entrepreneurship Competition for Overseas Chinese Scholars in the Energy Sector in 2018. Dr. Cui received the Postdoctoral Research Scholarship from both Natural Sciences and Engineering Research Council of Canada (NSERC) and Québec Research Fund - Nature and Technology (FRQNT) and held the MITACS Accelerate Research Program Fellowship from Canada.
Prof. Badrul Hisham, Universiti Teknikal Malaysia Melaka
Prof. Hakim Naceur, INSA Hauts-de-France
A. Prof. Wei Wei, Xi'an University of Technology
A. Prof. Abhishek Behl, Jindal Global University
A. Prof. Omar DIB, Wenzhou-Kean University
A. Prof. Sharifah Sakinah Syed Ahmad, Universiti Teknikal Malaysia Melaka
A. Prof. Vineet Dahiya, K. R. Mangalam University
A. Prof. Lee Hwang, Universiti Tunku Abdul Rahman
A. Prof. Arockia Selvakumar, Vellore Institute of Technology (VIT) Chennai
A. Prof. Mohammad Khishe, Iran University of Science and Technology
A. Prof. Teeti, East China University of Technology
A. Prof. Muhammad Jawad Sajid, Xuzhou University of Technology
Senior Lecturer Aslina Baharum, Universiti Malaysia Sabah
Lecturer Man Djun Lee, Curtin University Malaysia
Lecturer Qasim AlAjmi, A' Sharqiyah University (ASU)
Postdoctoral Research Fellow Wajid Rafique, University of Montreal
Dr. Marina Yusoff, Universiti Teknologi MARA
A. Prof. Jiang Zhu, Tokyo Institute of Technology
Postgraduate tutor Xuefang Nie, East China Jiaotong University
A. Prof. Ziyan Zhang, Hainan Tropical Ocean University
A. Prof. Cheng-Yuan Ho, Asia University
Lecturer Yiding Zhao, Yancheng Institute Of Technology
Research Assistant Junjie Wang, Tsinghua University
Lecturer Mehdi Gheisari, Islamic Azad University
Prof. Fei Xing, Shenyang University of Technology
Prof. Chifeng Chen, National Central University
Prof. Dong Chen, Xijing University, China
Prof. Badrul Hisham Ahmad, Universiti Teknikal Malaysia Melaka
Prof. Norhaliza Abdul Wahab, Universiti Teknologi Malaysia
Prof. Keishi Matsuda, Matsuyama University
Prof. Ikuo Ihara, Nagaoka University of Technology
Prof. Wen Tsai Sung, National Chin-Yi University of Technology
Prof. Jyhjong Lin, Department of Information Management, Ming Chuan University
Prof. Mohammad Ismail, University Technology Malaysia
A. Prof. Jiang Zhu, Tokyo Institute of Technology
A. Prof. Md Mozasser Rahman, International Islamic University Malaysia
A. Prof. Saman Abdanan Mehdizadeh, Agricultural Sciences and Natural Resources University of Khuzestan
Dr. Hamza Soualhi, University of Cergy-Pontoise
Dr. Kamal Jain, Indian Institute of technology Roorkee