Prof. Hazlie Mokhlis, Universiti Malaya
Hazlie Mokhlis is a Professor in Power & Energy Systems. He is actively involved in research as a principal investigator with a total amount of research grant worth more than RM 2.5 million. He is the author and co-author of more than 300 publications in international journals and proceedings. Up to now, he had successfully supervised 33 PhD and more than 60 Master Studenst. He is also active as reviewer for many reputable journals and several international conferences in the area of power and energy system. His outstanding research had been recognized by Stanford University in 2020 as one of the top 2% scientists in the world. In 2021 he was awarded Top Research Scientist Malaysia by Academic Science Malaysia. Besides research, he is also active in the development of Malaysian Standard as a member of Working Group in Development of Malaysian's Power System Analysis and Studies (WG6) and Expert Representative in IEC for project TC 8/PT 62786. Prof Hazlie is a Chartered Engineer with the Engineering Council UK and a Professional Engineer with the Board of Engineers Malaysia. He is also an external examiner/assessor for many local universities for the Electrical Engineering programme. Currently, he is chairman of IEEE Power Energy Society, Malaysia Chapter for 2020-2021 and Associate Editor for IEEE Access journal. His research is focusing on improving the efficiency and resiliency of power system operation.
Title: Application of nature inspired optimization in recent power system research
Prof. Qiushi Cui, Chongqing University

Qiushi Cui earned his M.Sc. degree from Illinois Institute of Technology, and the Ph.D. degree from McGill University, both in Electric Engineering. He was working as a postdoctoral researcher at Arizona State University (ASU) and served as the Associate Director of Machine Learning Laboratory for Power Systems in the Ira A. Fulton Schools of Engineering of the same university. Prior to joining ASU, he was a Research Engineer at OPAL-RT Technologies Inc. Dr. Cui has won three Best Paper Awards from UK, China, and the USA, all ranking the first. He was the winner of the Chunhui Cup Innovation and Entrepreneurship Competition for Overseas Chinese Scholars in the Energy Sector in 2018. Dr. Cui received the Postdoctoral Research Scholarship from both Natural Sciences and Engineering Research Council of Canada (NSERC) and Québec Research Fund - Nature and Technology (FRQNT) and held the MITACS Accelerate Research Program Fellowship from Canada.
Title: AI in Power Systems Protection: Opportunity and Challenge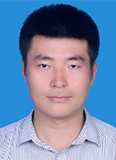 A. Prof. Guanglei Wu, Dalian University of Technology
Guanglei Wu engaged in doctoral and post-doctoral research at Aalborg University, Denmark, from 2013 to 2016, and devoted himself to the modeling and optimization design of robots and parallel mechanisms. In 2018, He was selected into the "Xinghai Qingqian" project of Dalian University of Technology. He presided over and participated in 20 projects of various types, more than 10 authorized patents, published more than 70 academic papers, published a monograph on Springer robotics; served as a reviewer for multiple international journals in the disciplines of mechanism and robotics, and Mai Gill University, French Academy of Sciences/Nantes Central Institute of Technology, Aalborg University and other world-renowned universities have established good scientific research cooperation relations. The main research direction is industrial robot technology and application, industrial engineering, etc.
Title: Robotic welding in large-scale ship hull construction
A. Prof. Wei Wei, Xi'an University of Technology
Dr. Wei Wei, male, is an associate professor, ACM senior member, IEEE senior member, CCF senior member, and member of the CCF Big Data Special Committee, the Internet of Things Special Committee, and the Network Data Special Committee. Dr. Wei has an H-index of 41+, with 6021+ Google Scholar Citations. In 2009, he completed his one-year academic visit at the University of Nebraska. Two years later, he earned his doctorate in Computer Software and Theory from Xi'an Jiaotong University. After finishing his electrical engineering postdoctoral research at the Xi'an University of Technology in 2015, Dr. Wei went on his academic visit at the computer department of the University of Texas at Dallas until 2017.
Dr. Wei's research fields cover the Internet of Things, artificial intelligence, and big data processing. So far, he has published more than 80 papers, chaired three projects supported by provincial and ministerial funds, won five scientific and technological progress awards at different administrative levels, and participated in six national fund projects as the backbone. In 2019 and 2020, he was granted the second prize in the Scientific and Technological Progress Award of Shaanxi universities. Dr. Wei has published more than 20 high-level SCI papers as the first author. Among them, 19 are ESI highly cited papers (papers that have been cited for more than 42 continuous months and those have been listed on the Essential Science Indicators Ranking of 2019 and 2020) and hot papers (global top 0.1% papers), more than six are published in JCR Q1 journals and Type B CCF international journals. Besides, he has more than four papers in the CAS Q1 journals as the corresponding author, i.e., Information Sciences, IEEE Trans. on Service Computing, IEEE Communication Magazine, and IEEE Trans. on Information Industrial Informatics. His most highly cited paper on Google Scholar has more than 297 citations, and that in SCI has over 200 citations. His total Google Scholar and SCI citations have topped 6,021 and 2,702, respectively. As an IEEE senior member, he is employed as an official editorial board member and reviewer in many high-level journals, such as ACM on Internet Technology, IEEE Trans. Services Computer, IEEE Trans. on Networking, Information Sciences, IEEE Trans. on Computers, IEEE Trans. on Vehicular Technology, IEEE Trans. on Neural Networks and Learning Systems, IEEE International Conference on Distributed Computing Systems, Pattern Recognition, Computer Networks, Future Generation Computer Systems. He is also the technical program committee member and the co-chair of several international conferences and the leading editor of the special issues of multiple world-famous journals, including ACM TOSN, IEEE ITS, IEEE TII, IEEE Wireless Communication Magazine, IEEE Intelligent Systems, Personal and Ubiquitous Computing.
Title: Based on IoTs Parking Navigation with Continuous Information Potential Field Research